175MW of new PV deployed in first quarter of 2021
Solar Energy UK
Immediate release
15/04/2021
More than 1GW of total installed UK solar capacity is subsidy-free
175 MW of photovoltaic (PV) solar capacity was installed across the UK from January – March 2021, new figures released by Solar Energy UK and Solar Media Ltd. show.
This significant growth over the winter period brings the UK's total installed PV capacity to more than 14 GW, generating enough electricity to power over 3 million homes.
Ground-mounted solar parks form 70% of the new capacity, while post-subsidy rooftop markets also continue to thrive. Rooftop solar capacity has seen 14% year-on-year growth.
Subsidy-free solar PV in the UK now exceeds 1 GW, or 7.3% of total installed capacity.
On a rolling basis, 660 MW of new capacity was installed in the 12-month period to 31 March 2021, and the UK could be on track to deliver a gigawatt of new solar capacity this year.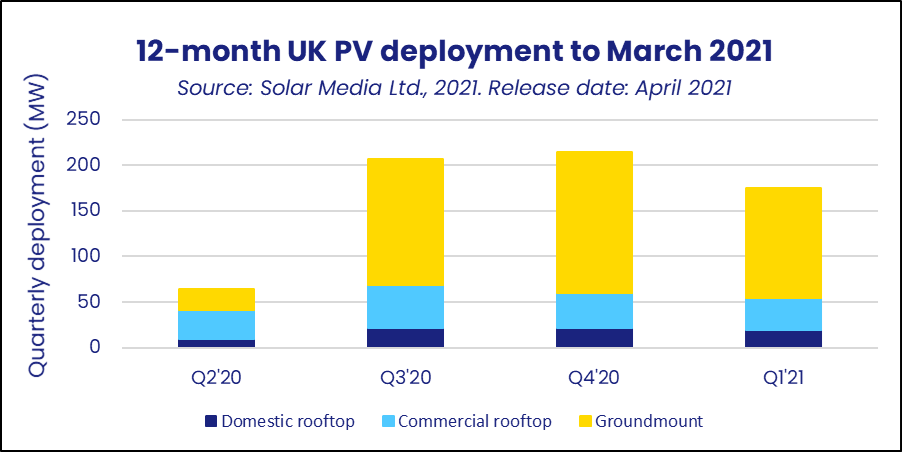 lacing the last 12 months' deployment in context demonstrates the impact of the Spring 2020 lockdown, as well as that of the end of the Feed-in Tariff (FiT) scheme in 2019. This prompted a rush to install projects in time to meet the subsidy deadline.
However, market confidence in solar is clear: in total, 975 MW of PV have been installed in the UK since the end of March 2019, when the FiT ended, and installations rose rapidly after the end of the lockdown.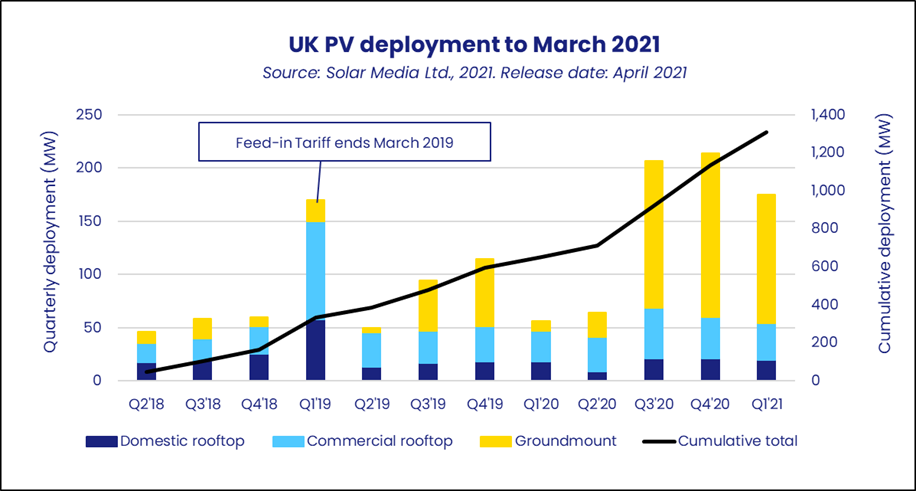 Annual solar deployment levels are expected to increase over the next few years. Global solar costs continue to fall, while information obtained by Solar Energy UK under a freedom of information request shows that nearly £140 million of funding has been awarded to PV projects by the government's Public Sector Decarbonisation Scheme. This could see around 160 MW of PV installed on public sector buildings alone in 2021.
The Local Authority Delivery element of the Green Homes Grant scheme, as well as the recent change in building regulations relating to new homes, means there should also be significant deployment of solar on residential rooftops in the coming years.
Commenting on the figures, Solar Energy UK chief executive Chris Hewett said: "The UK solar industry is going from strength to strength. Great Britain had its cleanest ever grid electricity over the Easter Weekend, with solar providing 21% of generation at one point." [1]
"The growing pipeline of subsidy-free projects reflects the confidence investors have in solar technology, and the UK can look forward to solar delivering an increasing amount of clean, affordable power."
Finlay Colville, head of research at Solar Media Ltd, added: "The UK solar industry is now operating efficiently and profitably in a zero-subsidy environment, confirmed by the strong deployment figures recorded during the first quarter of 2021."
"Annual growth is now being seen across all three of the main market segments of residential, commercial rooftop and ground-mount installations."
"Furthermore, the pipeline within each segment continues to grow robustly, especially for large-scale solar farms. 2021 could still be the most significant year for solar in the UK, if the industry succeeds in deploying above 1 gigawatt of new PV installations, fully absent of any government incentive schemes."
ENDS​
Correction 16/04/2021: The original press release stated 1,311MW of new PV capacity since March 2019. This has been amended to 975MW – the correct total for this period.
The research for these figures is undertaken by Solar Media Ltd., utilising over 10 years of market knowledge and data collection on the UK solar industry. The methodology to size the market combines in-house completed project databases, accreditation lists, import volumes from leading component suppliers, and cross-checking with site developers, investors, and installers.
Editor's notes:
[1] https://www.bbc.co.uk/news/uk-56657299
For further information or to request an interview, please contact:
Name: Jack Dobson-Smith
Title: Senior External Affairs Adviser
Main line: 0203 637 2946