Scotland's Fair Share: Solar's role in achieving net-zero in Scotland
Scotland has a legally binding commitment to deliver net-zero by 2045, five years ahead of the rest of the UK. Its interim target is to deliver at least a 75% reduction by 2030 and a 90% reduction in greenhouse gas emissions by 2040. Solar Energy Scotland welcomes these ambitious goals. However, as of the end of 2020, Scotland had only around 3% of the UK's total deployed solar generation capacity – far below the per-capita deployment for the rest of the UK.
Despite the clear potential for solar power in Scotland, its share of power is far lower than that of England and Wales, as well as Northern Ireland and Denmark which are on an equivalent latitude (Fig.1).
Figure 1: solar contribution to 2019 electricity generation, selected countries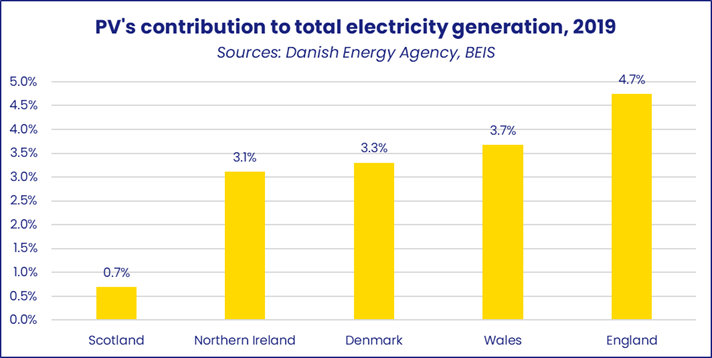 Analysis undertaken by Solar Energy Scotland shows that a solar deployment target of a minimum of 4GW, with the ambition to reach 6GW by 2030, would ensure that solar technologies deliver their fair share of the clean energy required for Scotland to achieve its leading and legally binding commitments to 2030 on the way to a net-zero economy by 2045. This would be a major increase on its existing deployment of 380MW.
By deploying rooftop to utility-scale, solar can provide a balanced and resilient energy mix, whilst ensuring the affordability to consumers of the decarbonisation of heat and transport. Empowering the industry to do so needs a commitment to a target that would provide businesses with the confidence and stable policy environment to invest, as well as removing key barriers to deployment. It would also deliver broader benefits – helping to create jobs, diversify the economy, and ensure a green recovery from the Covid-19 pandemic.
This paper outlines key policy recommendations the Scottish Government should adopt to help solar energy deliver its potential and stimulate investment so that Scotland gets its fair share of solar.