UK solar capacity grows by 545 MW in 2020
Solar Energy UK
Immediate release
21/01/2021
Deployment outstrips government estimates by hundreds of megawatts
Solar Energy UK and Solar Media Ltd. launch partnership to provide market intelligence on UK solar power revolution
The UK's solar photovoltaic (PV) power industry delivered major growth in 2020, supporting the UK's clean energy transition.
Last year – the first full calendar year of the UK's subsidy-free solar era – saw 545 megawatts (MW) of new solar PV capacity deployed, according to new analysis carried out by Solar Media Ltd. and Solar Energy UK. A 27% year-on-year increase in new capacity compared with 2019.

60% of the new capacity in 2020 came from ground-mounted PV systems. The remaining 40% was installed on rooftops, the majority of this located on commercial and industrial buildings.
Solar Energy UK chief executive Chris Hewett said: "These figures show that the government is playing catch-up in its understanding of the strength of the UK's solar energy industry. Solar energy will enable people across the country to benefit from clean, cheap power for their homes and technology, such as electric vehicles."

"We are delighted to launch this partnership with Solar Media, which will make it easier than ever to learn about the UK's solar revolution."

Solar Media's head of research Finlay Colville added: "The UK solar industry is now operating effectively in a post-subsidy phase with strong growth dynamics. The outlook for 2021 and beyond is expected to see continued deployment at the gigawatt-plus level, with investments now flowing into the sector for both rooftop and ground-mount projects."

"We look forward to working with Solar Energy UK to provide our continued insights on the UK solar market size and pipeline."
At the end of 2020, 13.9 gigawatts (GW) of solar capacity had been installed in the UK. This is almost 0.5 GW higher than existing Government-released figures [1], suggesting that the Government's data-collecting efforts continue to be unfit for purpose, despite repeated industry calls for this to be addressed.
The speed at which new solar sites were installed during 2020 was in keeping with a record-breaking year for UK solar generation. In April 2020, solar hit a new all-time peak generation record of 9.68 GW, while in May 2020 solar supplied 11% of all electricity. [2]
The strongest growth in 2020 came from the ground-mount segment, driven by large utility-scale projects. Excluding the impact of COVID-19, the residential sector also rebounded strongly during 2020, with increased deployment each quarter since Q2 2019, when the Feed-in Tariff scheme ended.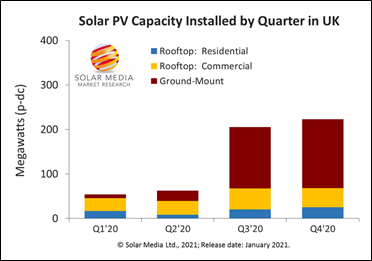 The new working arrangement between Solar Energy UK and Solar Media Ltd. includes quarterly and annual market updates for new solar PV capacity added in the UK, providing a much-needed source of data for Solar Energy UK members, Solar Media Ltd.'s online audience, and other key stakeholders tracking industry growth trends.
The research is undertaken by Solar Media Ltd., utilising over 10 years of market knowledge and data collection on the UK solar industry. The methodology to size the market combines in-house completed project databases, accreditation lists, import volumes from leading component suppliers, and cross-checking with site developers, investors, and installers.
ENDS​
Editor's notes:
[1] Department for Business, Energy and Industrial Strategy, Renewable electricity capacity and generation: https://www.gov.uk/government/statistics/energy-trends-section-6-renewables
[2] Information on UK solar PV courtesy of Sheffield Solar: https://www.solar.sheffield.ac.uk/pvlive/
Updates:
25 January 2021: The words 'in new capacity' were added to the final sentence in paragraph two.
For further information or to request an interview, please contact:
Name: Jack Dobson-Smith
Title: Senior External Affairs Adviser
Main line: 0203 637 2946