Six years of solar roofs: strongest growth since 2015
Solar Energy UK
Immediate release
17.02.2022
2021 saw 730MW of solar PV capacity installed around the UK, a major pandemic success story
This represents an increase in growth of 36% in 2020, when 538MW were deployed. The total installed capacity in the UK is now 14.6GW, up 5.3% in 2020.
2021 was potentially the most significant year to date for the UK solar industry, with each of the three market segments – residential rooftop, commercial scale and ground-mount – now seeing stable, subsidy-free growth. This reflects homeowner, business and investor confidence, which in turn reflects the benefits of solar: clean, affordable energy that reduces dependency on unreliable fossil fuels.
2021 saw huge growth in the UK solar sector, demonstrating the sector's ability to contribute to the economic recovery from Covid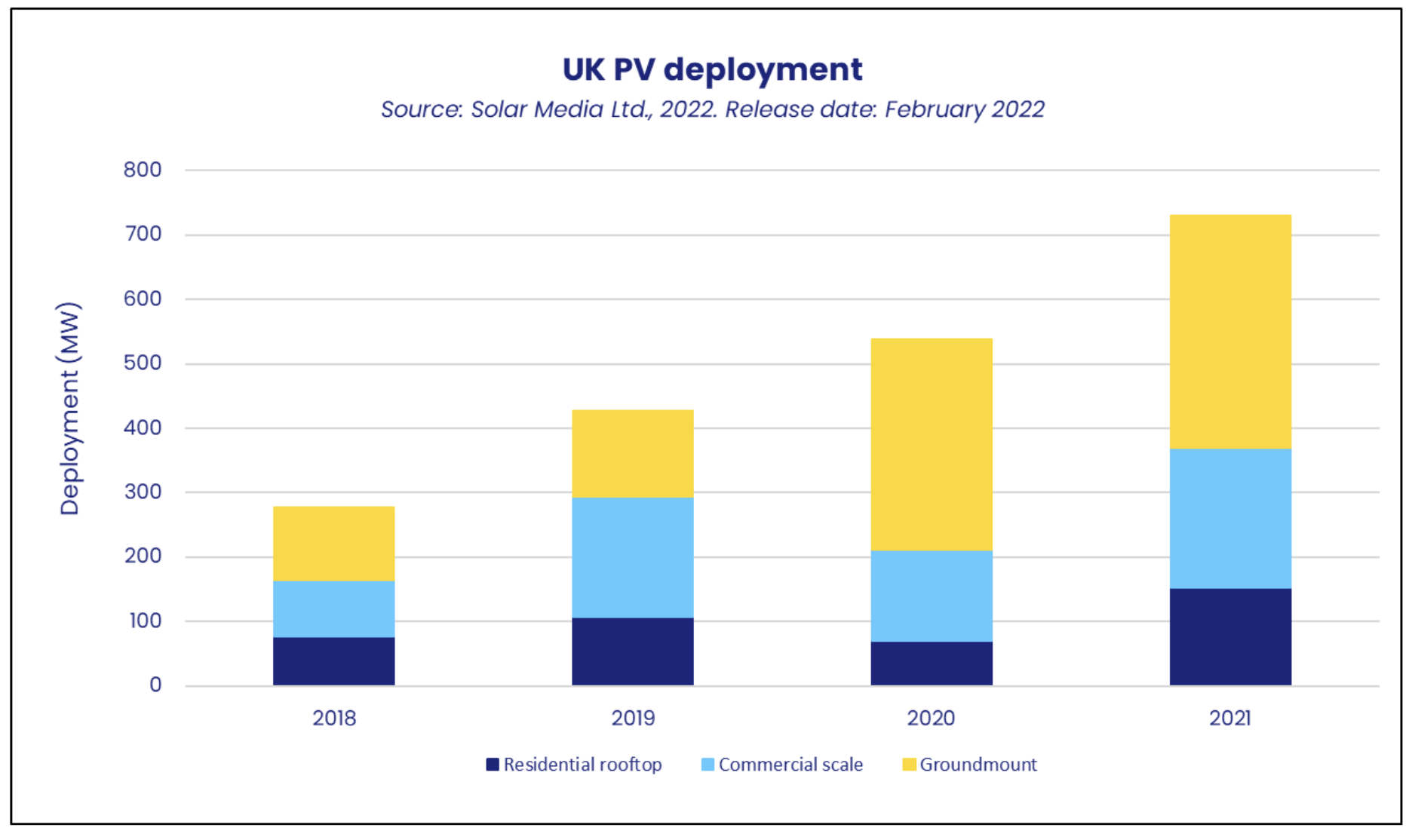 The strength of the rooftop sector is evident, with 369MW of onsite solar installed in 2021 – the highest total in six years, since 2015, when 869MW of capacity was built. Although this number is higher, there were significant subsidies available at the time, while new growth in the rooftop sector is fully subsidy-free.
High gas prices have helped stimulate the rooftop market, with commercial energy buyers installing onsite solar to protect themselves against the volatility of buying electricity based on fossil fuels. Instead, they produce their power from solar – lowering costs and providing more certainty for their operations.
The rooftop solar sector is booming, as homes and businesses turn to solar to mitigate the impact of the energy price crisis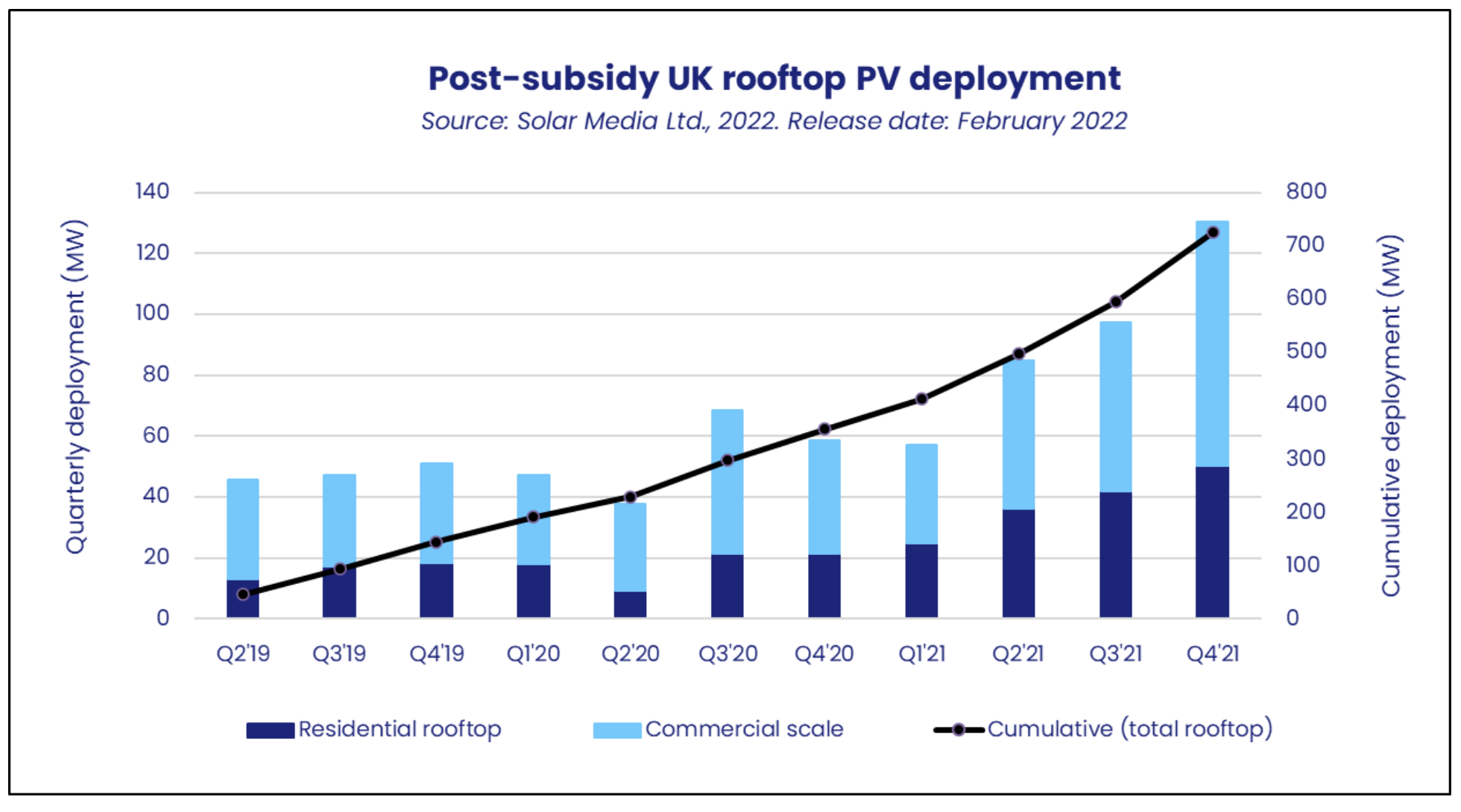 In total, there is now more than 5GW of residential, commercial and industrial rooftop solar capacity installed in the UK. These figures are a clear sign that the UK can look forward to significant solar deployment for the foreseeable future, as business customers and homeowners turn to the technology to save money on their energy bills – which have skyrocketed due to the use of gas in power generation.
The figures we publish today also do not reflect the impact of welcome recent developments.
These include the Future Homes Standard – new building regulations that come into force this year and should lead to a significant increase in solar installed on new homes. [1] The government has also pledged to end unfair tax treatment for businesses installing onsite solar renewable energy generation. [2] And last week saw the announcement of annual auctions for wholesale solar power. [3]
These are Solar Energy UK policy goals and have been welcomed by the industry, which is gearing up to deliver clean, affordable energy to even more homes and businesses around the country.
As the UK begins to decarbonise space and water heating, the contribution onsite solar technologies will make is also starting to be felt. There were nearly 67,000 solar PV and solar thermal installations accredited by the Microgeneration Certification Scheme in 2021, far outperforming the number of heat pumps.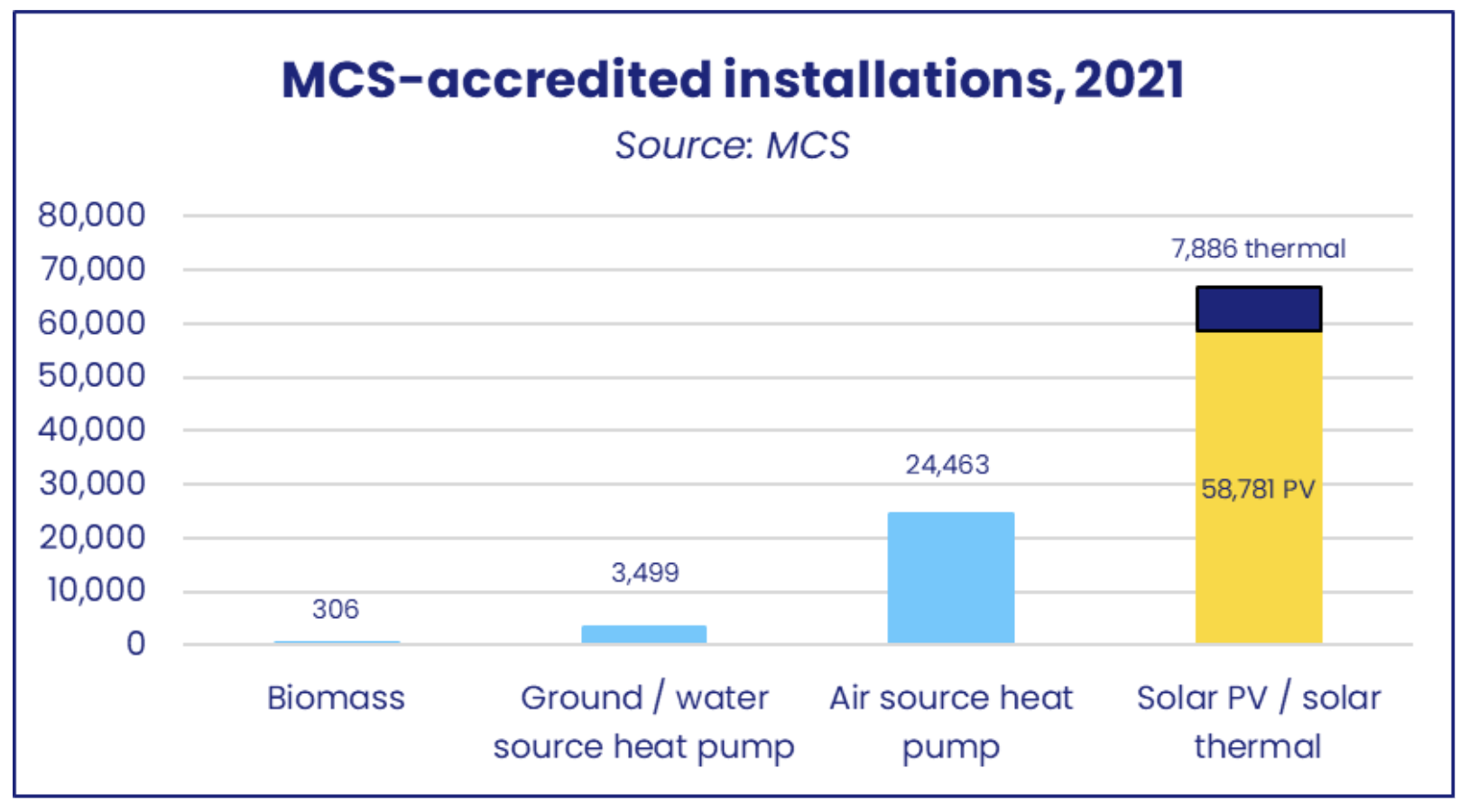 Solar Energy UK Chief Executive Chris Hewett said: "2021 was the year the UK's solar industry came of age. We are now seeing stable, sustained growth across the sector, with order books overflowing. As fossil fuel energy bills soar, rooftop solar in particular is now very popular. More and more consumers and businesses are investing in solar because they know it is a proven way to cut their energy bills and carbon emissions. It is also now a cheap way to charge EVs and decarbonise heating."
"The UK solar industry is ready to meet the challenge of supplying this demand, and we call on the government to match the ambition of the market. Setting a deployment target of 40GW would support the industry to take long-term investment decisions and build the workforce skills that will create thousands of green jobs across the whole country."
Finlay Colville, Head of Research at Solar Media Ltd, said: "2021 was potentially the most significant year for the solar industry in the UK, with clear signs that the market can now exist with gigawatt-plus levels of annual deployment going forward. For the first time also, each of the three key segments – residential, commercial rooftop and ground-mount – is seeing stable growth and an increase in the planning of new projects for the future."
"New investments and stakeholders are entering the UK solar market now in record numbers, many with a long-term strategy to develop large portfolios out to 2030. This is providing a highly dynamic and profitable environment for both domestic and overseas companies active in the market today."
Commenting on business since the beginning of the year, Jamie Vaux, Commercial Director at Solar Energy UK member Midsummer Wholesale, said: "It is indescribably insane. We are recruiting for a dozen open roles, have new starters every week, and opened new premises that will quadruple our warehouse space last week. Our design software saw 10,000+ designs done last month."
"We hit absolute max capacity every day, though we're working around the clock to keep adding resources. It's the fastest sustained growth we've ever seen."
ENDS​
The research for these figures is undertaken by Solar Media Ltd., utilising over ten years of market knowledge and data collection on the UK solar industry. The methodology to size the market combines in-house completed project databases, accreditation lists, import volumes from leading component suppliers, and cross-checking with site developers, investors, and installers.
Editors' notes:
Solar PV, energy storage and other green tech given business rates exemptions, relief in 2021 Budget
Solar Energy UK welcomes Future Homes Standard's 31% carbon reduction target
https://solarenergyuk.org/news/solar-energy-uk-welcomes-the-announcement-to-accelerate-the-cfd-scheme/
For further information or to request an interview, please contact: