Record breaking growth in rooftop solar capacity
Solar Energy UK
Immediate release
21.10.2021
97MW of solar PV deployed in Q3 on homes and businesses around the country
97 MW of solar PV capacity was deployed on rooftops around the UK in the third quarter of 2021 – representing more than 90% of the total solar PV deployment of 107 MW for the quarter.
A smaller figure of 10MW of ground-mounted solar was built during this period, as developers put construction of larger projects on hold because of increases in the price of commodities.
However, in the expectation that prices will decline again in future, there has continued to be a huge pre-build investment in utility-scale solar capacity. The total pipeline is now more than 20GW.
Meanwhile, the rooftop solar sector goes from strength to strength. There was a further increase in large commercial rooftop projects, and the six-month deployment figure for Q2 – Q3 2021, of 104MW, was a record for the industry.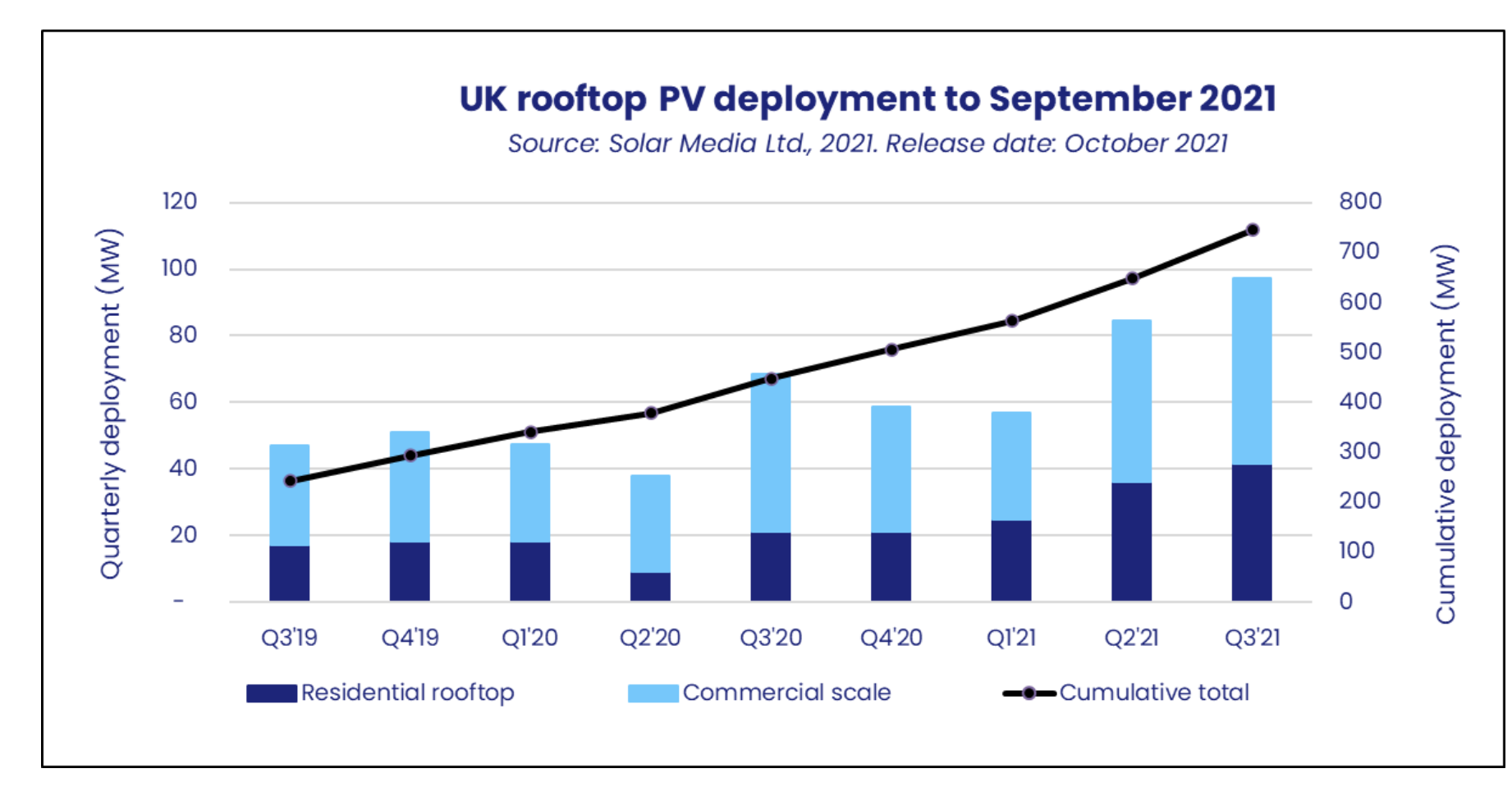 Therefore, the outlook for the final quarter of the year remains strong, particularly for the rooftop market. However, several large ground-mount projects need to be completed to meet deadlines, so deployment is expected there.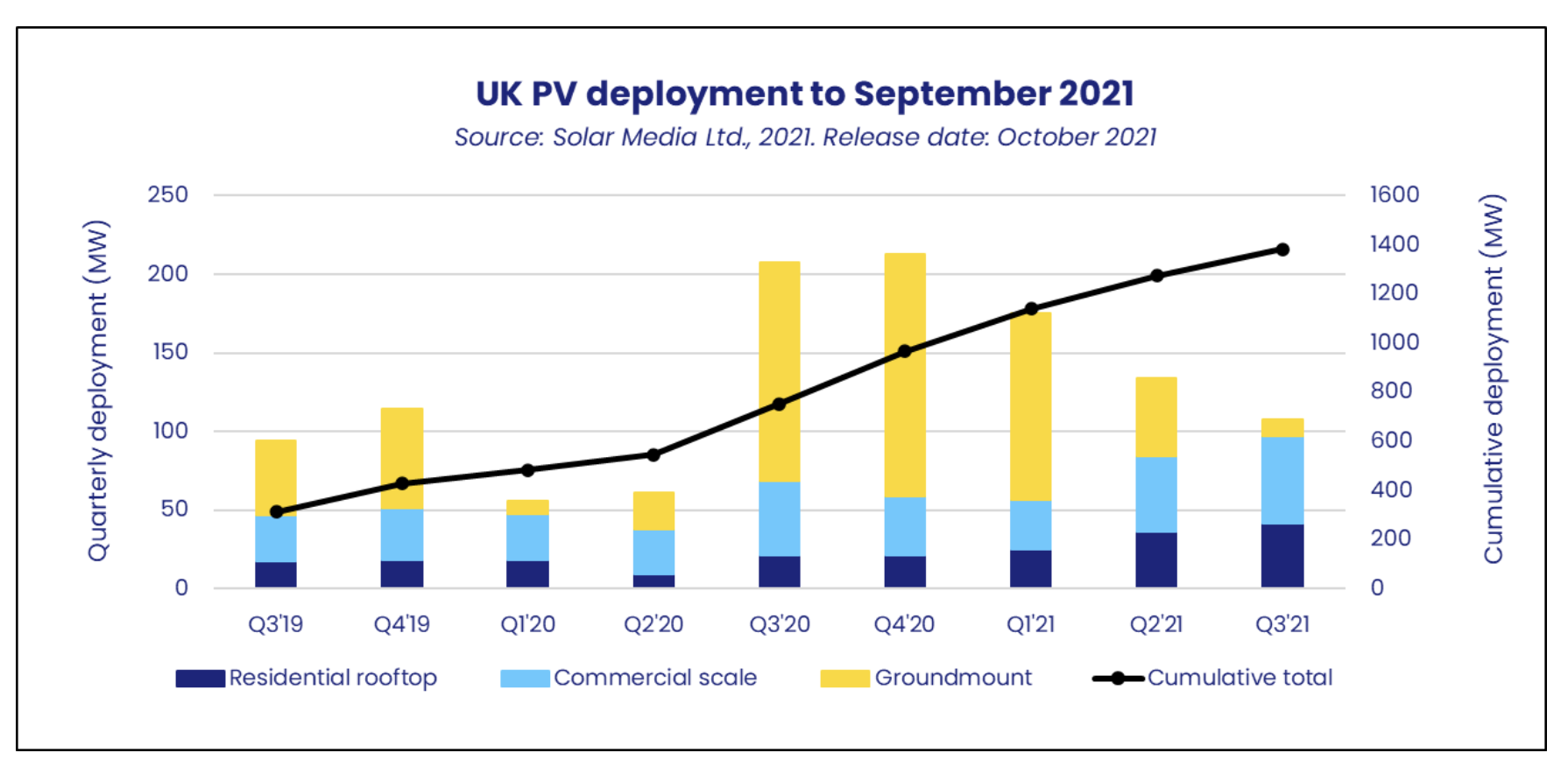 Solar Energy UK Chief Executive, Chris Hewett, said: "This summer's rooftop deployment figures are a source of pride for the UK solar industry. Home occupiers and businesses are racing to install rooftop solar projects, proven and reliable ways to cut carbon and costs. Solar Energy UK members are as busy as they have ever been, and there is more growth to come."
"Nonetheless, there are barriers to further rooftop deployment in the UK – not least the disappointing absence of a clear target for solar deployment in government climate change policies published this week, including the Heat and Buildings Strategy. We call on the government to commit to setting a deployment target of 40GW by 2030. This would send a clear signal that the UK is open for business and attract investment and labour into the solar sector."
Finlay Colville, Head of Research at Solar Media Ltd, said: "The UK solar industry is now in a very healthy position, existing in the absence of production-based government-allocated incentives. The rooftop market has now become a massive opportunity for dozens of local installers, many of whom had to fight to survive after the feed-in tariffs were removed at the start of 2019. There is now increased motivation for installers to move from small residential systems to larger commercial rooftops, with systems sizes above 100 kW."
"The overall market for the UK is likely to hit 600 MW for the year, above 2020 deployment figures, but still short of the GW-levels expected at the start of the year. Utility-scale ground-mount projects will likely start being built again during 2022, but the timing remains contingent on Asian manufacturers seeing module costs decline back to 2019 levels. Going forward, GW-plus annual deployment – with strong rooftop and ground-mount contributions – remains on track out to 2030."
– ENDS​ –
The research for these figures is undertaken by Solar Media Ltd., utilising over 10 years of market knowledge and data collection on the UK solar industry. The methodology to size the market combines in-house completed project databases, accreditation lists, import volumes from leading component suppliers, and cross-checking with site developers, investors, and installers.

Editors notes:
For further information or to request an interview, please contact:

Name: Kevin McCann
Title: Policy Manager

Main line: 0203 637 2946
Email: kmccann@solarenergyuk.org