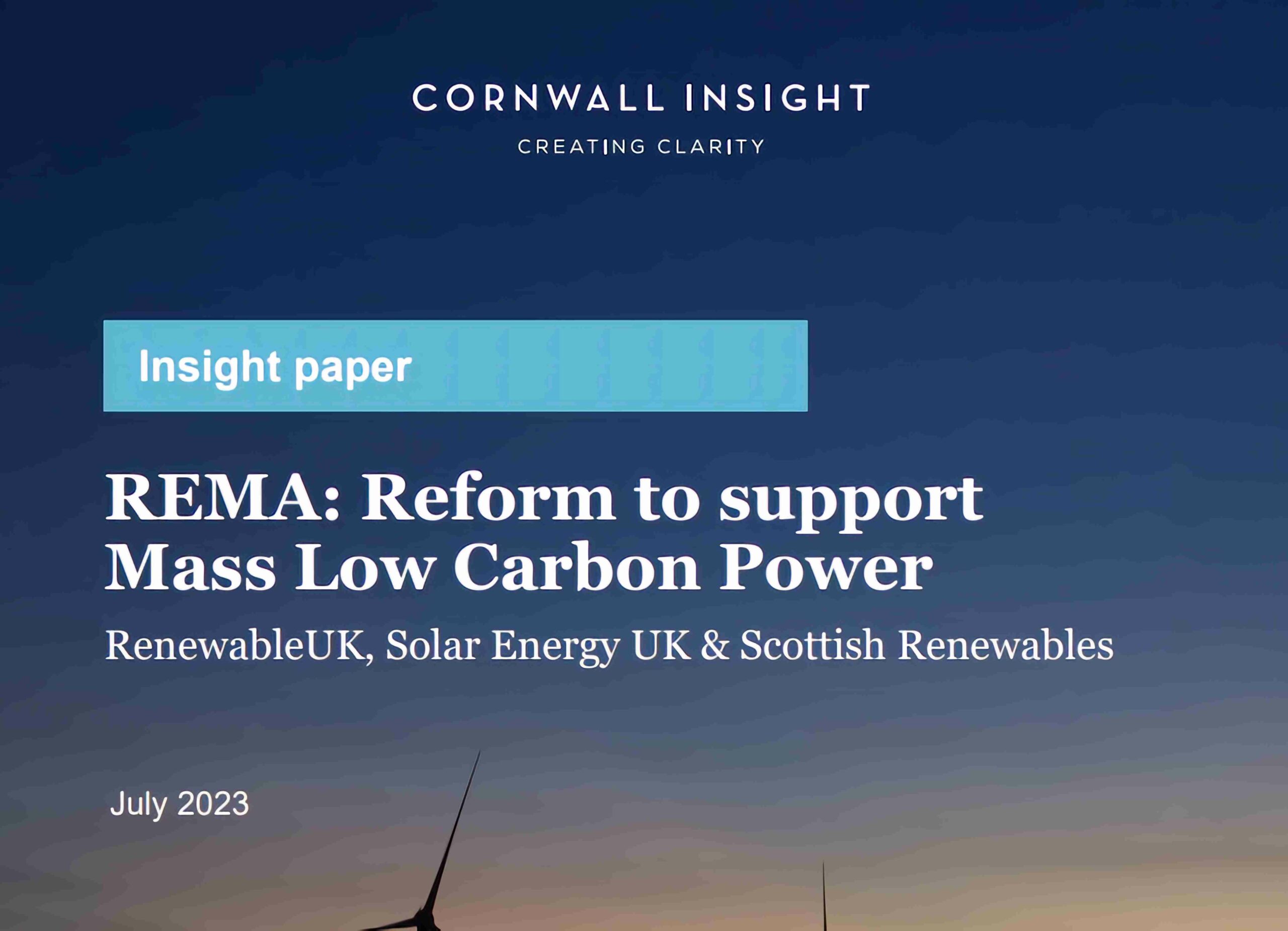 Radical shake up of the energy market would create huge uncertainty for renewable energy investors
Renewable UK, Scottish Renewables, Solar Energy UK Media Release.
Thursday 24 August 2023
The cost of electricity will inevitably rise for consumers if plans for a drastic overhaul of the market go ahead, say three major trade associations representing over 800 renewable energy companies.
The plans, called "'Locational Marginal Pricing", are being considered by Government and energy regulator Ofgem as part of a wide-ranging review of the electricity market. The scheme would mean that the wholesale price of electricity would vary across Great Britain. The country would be split up into different regions, or even into hundreds of different zones based on post codes. Prices would be based on local supply and demand, as well as how close power stations are to consumers.
The report found that amending these contracts in an incremental and evolutionary way could deliver electricity at the lowest cost to consumers and maintain investor confidence.
Six options are proposed by the report, such as paying generators in innovative ways to ensure that supply always meets demand even more closely. These changes would help to transform our energy system to meet net zero by 2050 whilst avoiding the risk of a potentially catastrophic investment hiatus.
RenewableUK's Economics and Markets Manager Michael Chesser said: ""Injecting further volatility and uncertainty into our energy market would have very real and very negative consequences for billpayers. If Locational Marginal Pricing were to be implemented, it wouldn't only increase costs across our whole energy system, but it would also create a bizarre regional or local post code lottery of prices for consumers, inflating bills in England especially.
"We're already working closely with the Government on a considered approach to reform our electricity market in a stable way, based on evolution rather than revolution, which won't deter investors, so that we can secure lower prices for consumers and decarbonise our electricity system by 2035".
Claire Mack, Chief Executive of Scottish Renewables, added: "The Contracts for Difference mechanism will continue to be the workhorse of renewable energy deployment as we move towards the targets that will bring about a decarbonised power sector and a net-zero economy.
"The Cornwall Insight report published today demonstrates the significant potential for the CfD to be reformed while maintaining investor confidence in the UK's energy transition.
"Proposals which would introduce increased uncertainty to the market and undermine investor confidence, such as locational marginal pricing, must be taken off the table. Only then will we be able to focus on introducing the evolutionary reforms which will secure the billions of pounds of investment required as quickly as possible to decarbonise our economy and reach net-zero by 2050".
Solar Energy UK's Director of Policy and Delivery Gemma Grimes said: "Our members are very concerned about this plan. Over £200bn of investment is needed by 2037 across the electricity sector to deliver on the UK's climate commitments, so making energy prices more volatile, disrupting investor confidence and increasing the cost of capital at this time would be deeply unhelpful. Worst of all, it will push up consumer bills, too".
The report by Cornwall Insight "REMA: Reform to support Mass Low Carbon Power" is available here.
-ENDS-
For further information, please contact:
Notes:
RenewableUK's members are building our future energy system, powered by clean electricity. We bring them together to deliver that future faster; a future which is better for industry, billpayers, and the environment. We support over 470 member companies to ensure increasing amounts of renewable electricity are deployed across the UK and to access export markets all over the world. Our members are business leaders, technology innovators, and expert thinkers from right across industry. Our events programme is available here.
Cornwall Insight is the pre-eminent provider of research, analysis, consulting and training to businesses and stakeholders engaged in the Australian, Great British, and Irish energy markets. To support our customers, we leverage a powerful combination of analytical capability, a detailed appreciation of regulation codes and policy frameworks, and a practical understanding of how markets function.

The Government's Electricity Generation Costs report, published by DESNZ earlier this month, is available here.